Online Depression Test/Quiz
Details

Category: News
Hits: 2117
INSTANT FREE DEPRESSION TEST/QUIZ
Take the fast & easy online self help depression test Today!, The "am i depressed test or quiz" that guides you on how YOU are feeling TODAY! and what level of help do you require.
The fast instant result's recommend's if you can self help yourself or if you need professional advice or guidance on depression. Don't let your manic depression go on undetected, take a test & if your results are not good see your doctor straight away. Take your time and read each question carefully, then click on your answer that best suits how you feel, once you have completed all 25 questions,
Click on the "Get Results for Depression Test/Quiz" button to generate your instant results.
(A point to note that learning to relax by listening to a relaxation CD can help you reduce your depression)
A point to note about depression below.
The circle of depression, anxiety, panic and stress can thus lead to insomnia, musclar pain and high blood pressure. THOUGHT's - Effect - FEELING's - Effect - BEHAVIOUR's - Effect - THOUGHT's Thinking POSITIVE thoughts can end this downward spiral today!
To score the test questions enter a number between a 1 and 5
(1 = No way  2= A Little  3 = 50/50  4 = A Lot  5 = Certainly).
Good Luck with your Depression Test/Quiz.
History of the Relaxation CD
Details

Category: News
Hits: 1864
How to relieve stress by using this Relaxation CD
This newspaper article is the history of how i came to develop a Relaxation CD to relieve stress, i have sold thousands of these RELAXATION CD, it may look plain and boring with no real artwork but its the quality of the material on the Relaxation CD that really matter. Like they say proof is in the pudding.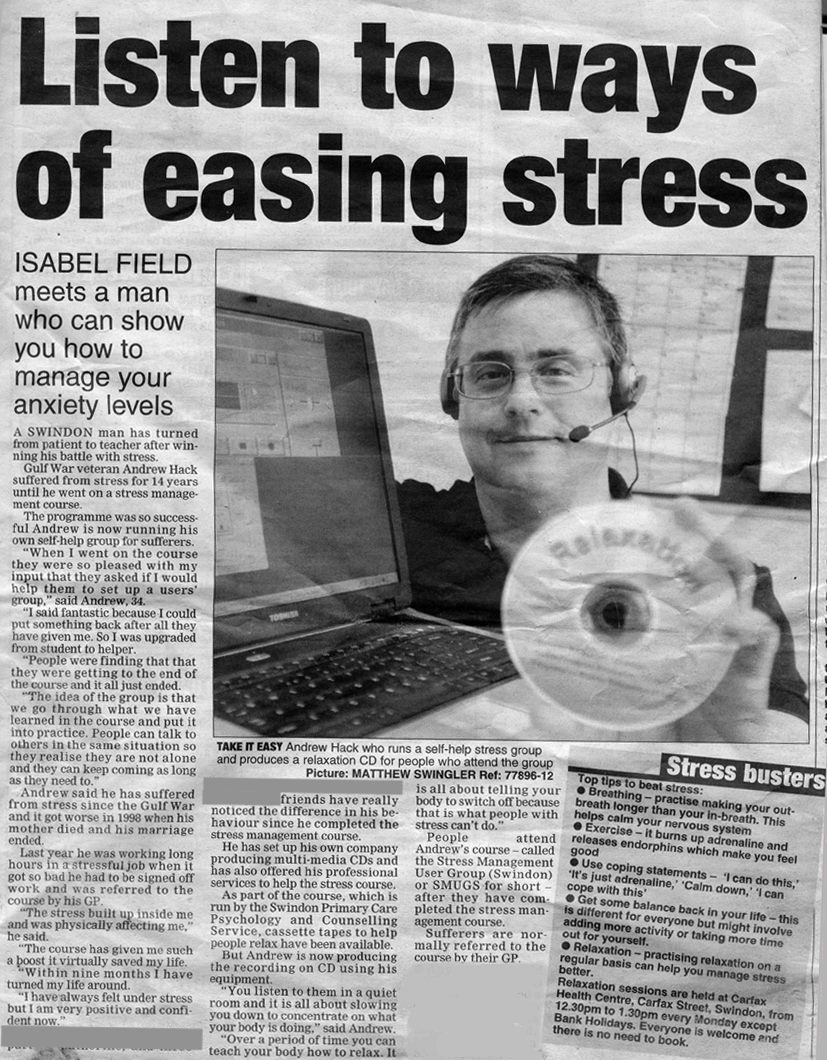 Fusion Media Software Solutions Ltd in conjunction with trained professionals at a National Health Service (NHS) Primary Care Trust in the United Kingdom developed and recorded this relaxation cd to help relieve stress and learn how to relax, Fusion media software solutions ltd then digitised the recordings and produced a four track relaxation cd & digital audio downloads. Many years this relaxation cd has been helping people who have attended their stress management courses with the NHS, to relax, relieve stress and improve insomnia. It has been sold to Individuals, Counsellors, Doctors and hospitals around the world in the treatment of Mental Illnesses and received excellent feedback.
"TAKE IT EASY relieve your stress Andrew Hack produces a Relaxation CD"